---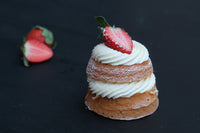 This is a rich Victoria sponge, brushed with lemon syrup and enticing strawberry jam. It's filled with our signature refreshing natural vanilla cream cheese frosting.
Ingredients: butter, sugar, eggs, vanilla, flour, strawberry jam, cream cheese, fresh cream
Allergens: Wheat gluten, egg, milk

Please note: all of our products are prepared in an environment where they may come into contact with WHEAT, EGGS, PEANUTS, OTHER NUTS, and MILK. We cannot guarantee our bakery is completely free of these allergens. For more information, please email us on hello@prestigepatisserie.com before ordering.