---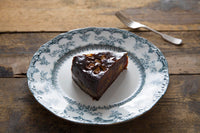 Our recipe transforms this dessert to be eaten cold, balancing the sweetness and moisture with fresh Bramley apples. Combined with a special toffee caramel, the cake is brushed with set toffee for a beautifully rich texture.
Ingredients: dates, water, baking soda, butter, sugar, Bramley apples, eggs, vanilla, flour, cinnamon, nutmeg, honey, glucose
Allergens: Wheat gluten, egg, milk
Please note: all of our products are prepared in an environment where they may come into contact with WHEAT, EGGS, PEANUTS, OTHER NUTS, and MILK. We cannot guarantee our bakery is completely free of these allergens. For more information, please email us on hello@prestigepatisserie.com before ordering.