---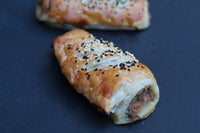 The perfect treat for breakfast or lunch, our recipe has been concocted by Geanina, from fresh minced pork and beef locally sourced to fresh herbs and tasty spices that married together piped into our homemade buttery puff pastry finished with sesame seeds and Nigella seeds.
You can serve at room temperature or hot.
Ingredients: flour, butter, salt, vinegar, water, pork mince, beef mince, garlic, thyme, onions, breadcrumbs, carrots, black pepper, chili flakes, mustard, tabasco, rosemary, ketchup, apples, sesame seeds, black onion seeds, eggs
Allergens: Wheat gluten, egg, milk, sesame, mustard
Please note: all of our products are prepared in an environment where they may come into contact with WHEAT, EGGS, PEANUTS, OTHER NUTS, and MILK. We cannot guarantee our bakery is completely free of these allergens. For more information, please email us on hello@prestigepatisserie.com before ordering.