---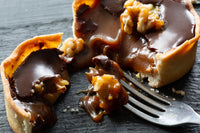 Our Great Taste Award winning tart is encased in a sweet pastry, we use a unique recipe to give you a perfectly soft, glossy caramel. After sprinkling some sea salt on top of the mixture, we add a full spoon of Belgian chocolate ganache which has been blended with honey. For an extra crunch, we've added caramelized walnut brittle.
Ingredients: butter, sugar, eggs, flour, fresh cream, butter, dark chocolate, honey, milk, walnuts, Maldon sea salt
Allergens: Wheat gluten, egg, milk, walnuts
Please note: all of our products are prepared in an environment where they may come into contact with WHEAT, EGGS, PEANUTS, OTHER NUTS, and MILK. We cannot guarantee our bakery is completely free of these allergens. For more information, please email us on hello@prestigepatisserie.com before ordering.