---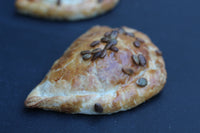 Roasted butternut squash, roasted onion, and creamy goat cheese, all packed in our signature flaky and buttery shortcrust, topped with crunchy pumpkin seeds.
You can serve at room temperature or hot.
Ingredients: flour, butter, salt, water, onion, butternut squash, eggs, goat cheese, garlic, black pepper, chili flakes, eggs, pumpkin seeds
Allergens: Wheat gluten, egg, milk
Please note: all of our products are prepared in an environment where they may come into contact with WHEAT, EGGS, PEANUTS, OTHER NUTS, and MILK. We cannot guarantee our bakery is completely free of these allergens. For more information, please email us on hello@prestigepatisserie.com before ordering.