---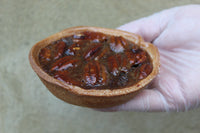 This luxurious tart combines plenty of chopped pecans with dark brown sugar and a touch of black treacle as our special ingredient! Each bite has a delicious texture and chew, encased in our sweet pastry, and brushed with a maple syrup glaze.
Ingredients: butter, sugar, eggs, flour, pecan nuts, golden syrup, black treacle, maple syrup, glucose, milk, vanilla, salt
Allergens: Wheat gluten, egg, milk, pecan 
Please note: all of our products are prepared in an environment where they may come into contact with WHEAT, EGGS, PEANUTS, OTHER NUTS, and MILK. We cannot guarantee our bakery is completely free of these allergens. For more information, please email us on hello@prestigepatisserie.com before ordering.