---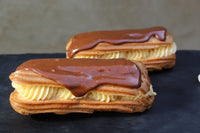 Our canapes are between 25-30 grams each and minimum order is 1 KG, approx 35 pieces.
We only accept a minimum order 1Kg per flavour. The 1kg cannot be mix and match.
Our classic choux pastry is filled with our homemade recipe for creme patissiere to give you an indulgent center. This is served with a Belgian chocolate fondant combined with a freshly ground espresso shot.
Ingredients: Wheat flour, milk, water, butter, salt, eggs, sugar, vanilla, cornflour, coffee, cacao
Allergens: Wheat gluten, egg, milk
Please note: all of our products are prepared in an environment where they may come into contact with WHEAT, EGGS, PEANUTS, OTHER NUTS, and MILK. We cannot guarantee our bakery is completely free of these allergens. For more information, please email us on hello@prestigepatisserie.com before ordering.