---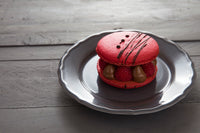 Using Belgian chocolate mousse, combined with honey, this macaron is perfectly gooey, with a chewy center and a light crisp casing. The fresh raspberries are locally sourced and blend together with the chocolate.
Ingredients: ground almond, sugar, water, egg, dark chocolate, fresh raspberries, honey, fresh cream
Allergens: almond, eggs, milk
PLEASE NOTE: Although we have not used wheat in this product, the items are prepared in an environment where we handle WHEAT, EGGS, PEANUTS, OTHER NUTS, and MILK for other items, and therefore it may contain small traces of gluten. We cannot guarantee our bakery is completely free of these allergens. For more information, please email hello@prestigepatisserie.com before placing your order.