---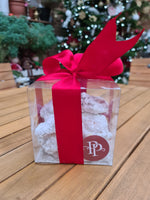 Our stollen is loaded with sweet cherries, swirls of handmade marzipan and dried fruit, finished with a snowy dusting of icing sugar. 
Ingredients: milk, yeast, flour, sugar, mixed spice, eggs, butter, cherries glace, mix peel, rum, lemon, orange, raisins, almond
Allergens: Egg, Dairy, Almond, wheat
Here 13 stollen bites are available, beautifully presented in a gift box.

Please note: all of our products are prepared in an environment where they may come into contact with WHEAT, EGGS, PEANUTS, OTHER NUTS, and MILK. We cannot guarantee our bakery is completely free of these allergens. For more information, please email us on hello@prestigepatisserie.com before ordering.